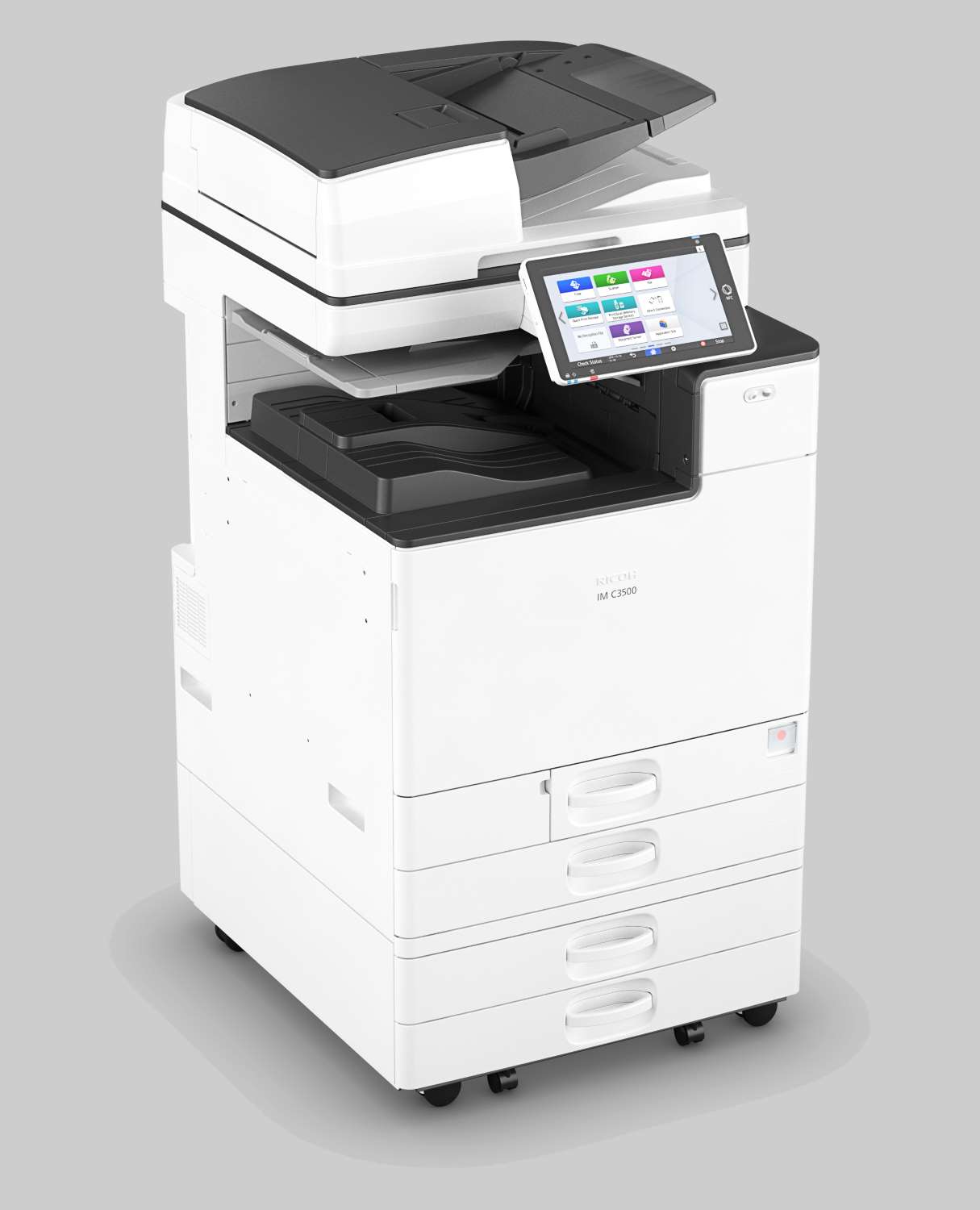 A3 Printer Scanners for Cumbria Businesses
These days, you don't just need a printer in your office
You want to be able to use one compact device to copy details, print documents up to A3 size, scan information, possibly even fax over the web. And if it can print from mobile devices and be controlled remotely, all the better.
Tech4 Office Equipment can now supply you with some of the best A3 printer scanners in Cumbria. MFDs or Multi-Function Devices, are becoming essential office equipment wherever you operate in Cumbria, the North West or the Scottish Borders.
Tech4 in Carlisle can provide exactly the right MFD printers as a cost-effective solution for medium to large enterprises. For smaller companies or lighter print loads, we will work out the right MFP solution that tackles the job and takes up the minimum possible space. 
We're distributors and agents for Ricoh, Lexmark, Sharp and Develop – you might not recognise all those brand names but together, with a bit of advice from Tech4, they offer a broad range of cost-effective, reliable and high-quality printing for your business.
Buy, Lease or Rent A3 All In One Printers
In the modern office or mixed home/office work environment, document requirements go far beyond the simple print & copy mixture of just a decade ago.
Your business might need a short-term MFP printer rental – we can do that.
Or a longer term A3 MFD rental or lease of up to five years – Tech4 can do that too.
And whether you buy your printer, rent it or lease it, we can offer one of the best fully MFD solutions and managed print services in the North West.
Tech4 also operates a brilliant all-in-one pay per print service called Printer Pal if you're not quite sure what sort of demands you are going to be putting on your multi-function devices.
We're not just about selling you a standard A3 laser printer either. We go out of our way to understand your actual print and document requirements.
Our pre-sales questions will help you decide whether you really need the full range of MFD - multi function device bells and whistles. Then, once we've chatted this all through and discussed some options, we'll find you the optimum solution for your organisation.
At Tech4 we pride ourselves on putting together MFPs and other office equipment with the service packages to match. We understand that it is all about making your life hassle-free and keeping your printing budgets under control.
Printer solutions for growing businesses might mean buying, leasing or renting now and then adapting as you grow.
with multi-function printers
It's easy to get bamboozled by salespeople so we try to present clear options from basic A3 colour printers to full blown A3 laser printer scanner MFDs, to our customers. Clear prices too so that there are no surprises.
If you have a feel for the number of copies and prints, you're going to be producing and can let us know the sort of quality of scan and print you're going to need, we can give you practical advice.
You might need:
An A3 colour laser printer or an inkjet alternative – think about noise levels, speed and volume of copies.
A simple A4 format or something that will go up to A3 paper sizes
Wi-Fi connection or hard-wired devices.
Touch screen controls, security features such as password protected print requests or metering of copies.
Colour or just black and white – it's easy to save money if your print requirements don't need colour.
Call us to talk about how you work and what you need. Tech4 can then come up with suggested multi-function devices that fit the job and your budget:
If we sound like the sort of office equipment supplier you need,
get in touch and let's talk
If we sound like the sort of office equipment supplier you need,
get in touch and let's talk